**************************************************************************************************
The Rooster Who Would Not Be Quiet by Carmen Agra Deedy, illustrated by Eugene Yelchin (ScholasticPress)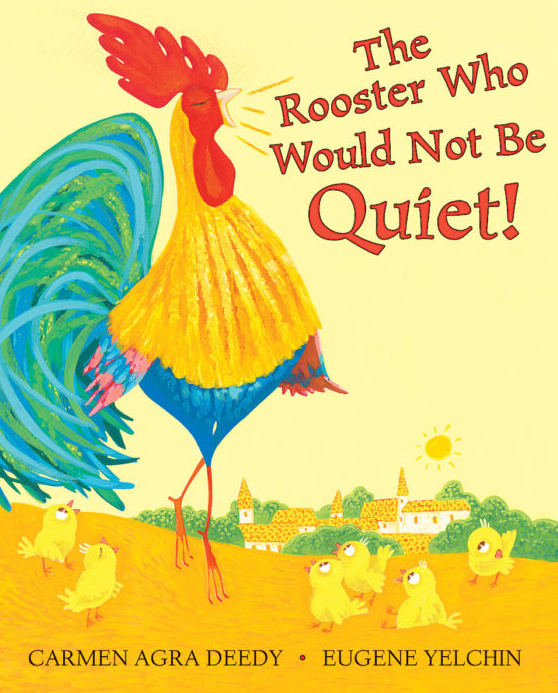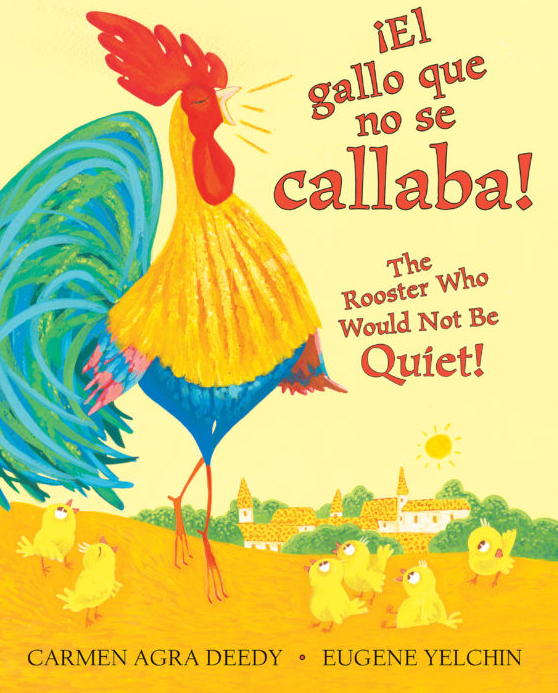 Aptly described as anallegory, The Rooster Who Would Not Be Quiet, is the story of a village, a tyrant, and a defiant rooster. La Paz was an extremely noisy place, so they elect Don Pepe as their mayor as he promises peace and quiet. But the villagers soon realize that peace and quiet come at a price as Don Pepe outlaws singing of any kind. Several years later a noisy rooster, and his family, arrive in the village. The rooster refuses to quiet his song and sings out, "kee-kee-ree-KEE!" Don Pepe meets the rooster's defiance with increasingly harsh punishments, but the rooster refuses to stop singing and declares, "I sing for those who dare not sing -- or have forgotten how." This brave and vocal rooster finally bests the mayor and brings song and life back into the village. In her author's note, Deedy states, "Much like roosters, human children are born with voices strong and true -- and irrepressible. Then, bit by bit, most of us learn to temper our opinions, censor our beliefs, and quiet our voices. But not all of us." This beautiful story is accompanied by bright, bold, and vibrant illustrations.
**************************************************************************************************
Moxie by Jennifer Mathier (Roaring Brook)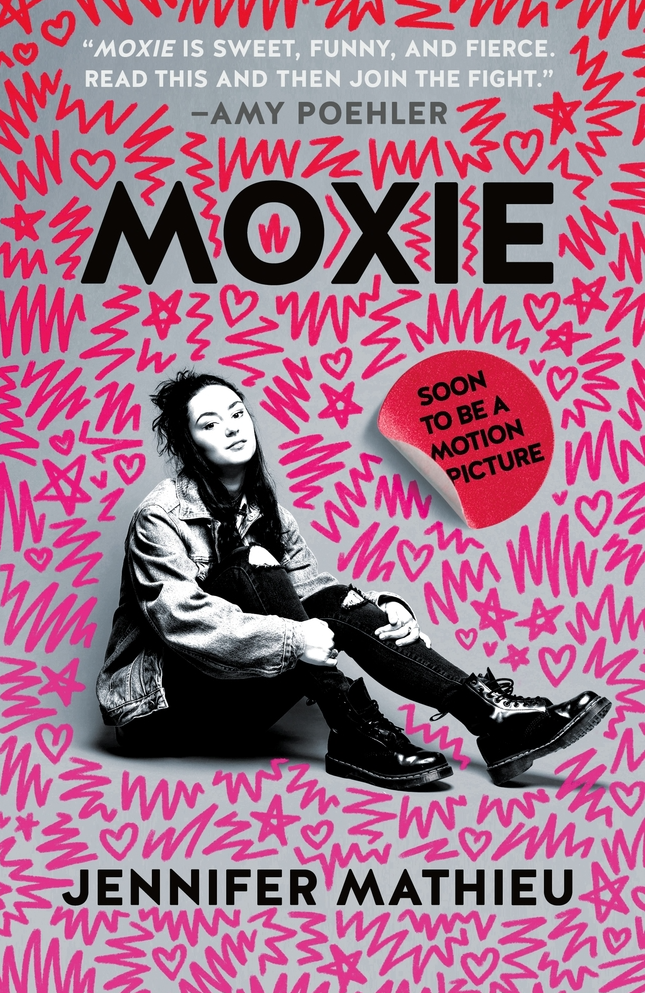 Driven to do something about the treatment of young women at her small Texas high school, Vivian Carter unknowingly starts a revolution. In Vivian's high school, and town, football rules and members of the football team are treated like gods who can do no wrong. The overlooked behavior at school includes a "game" of groping young women in the hallways, an annual ranking of the most "doable" young women in each grade level, and many more examples of harassment. In addition, the young women in Vivian's school are subject to a sexist dress code that is upheld by the administration and the faculty. Vivian has had enough and takes inspiration from her mom's "wild" younger days as a punk rock Riot Grrrl by creating a feminist zine, which she calls Moxie, and distributing it anonymusly throughout the school. Within the zine Vivian suggests small actions that can be done to fight back against their treatment at school because MOXIE GIRLS FIGHT BACK! As more and more students participate in these small rebellions, such as wearing bathrobes to school to protest the dress code, Vivian realizes that she has taped into a need and a community within her school. Her actions bring young women from across the school and cliques together to fight back against the injustices they have been enduring. This is an extremely readable book that demonstrates the power of actions in the pursuit of social change and justice.
**************************************************************************************************
Schomburg: The Man Who Built a Library by Carole Boston, illustrated by Eric Velasquez (Candlewick Press)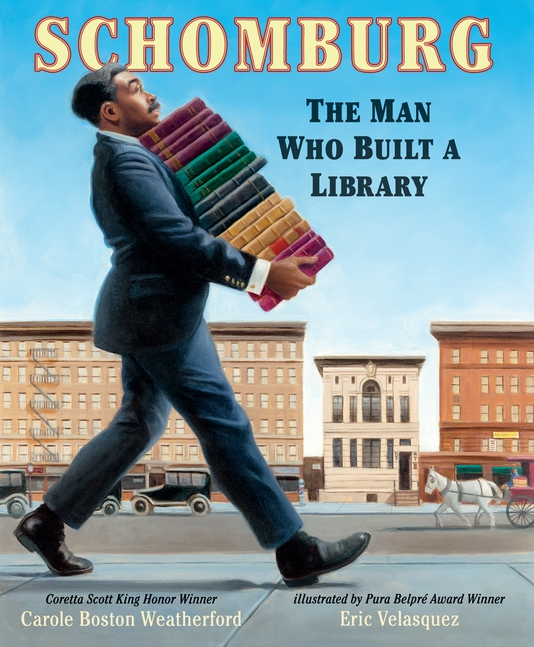 Where is our historian to give us our side? Arturo asked.

This is a stunning picturebook biography written in verse of Arturo Schomburg. Don't let the category of picturebook biography make you think that this is a book only for young readers; this book can, and should, be enjoyed by readers of all ages and backgrounds. Schomburg's lifelong passion, that of colleting books, letters, music, and letters from Africa and the African diaspora, resulted in the Schomburg Center for Research in Black Culture, which is part of the New York Public Library. The collection is visited by scholars from around the world! Weatherford's poetic words carry us through the duration of Schomburg's life, highlighting both the triumphs and the struggles. While Velasquez's rich and realistic illustrations provide more depth into Schomburg and the time period from which he emerged.
In luminous paintings and arresting poems, two of children's literature's top African-American scholars track Arturo Schomburg's quest to correct history.
**************************************************************************************************
Fred Korematsu Speaks Up by Laura Atkins and Stan Yogi, illustrated by Yutaka Houlette (Heyday)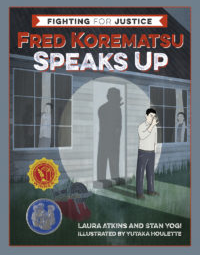 Fred Korematsu Speaks Up is a genre-defying work for young adults that is the first in the Fighting for Justice series which seeks to highlight real people who spoke up in regards to issues of social progress. The book is part picturebook biography, with muted, realistic illustrations by Houlette, part biography in verse, and part informatinal text. Fred, an American of Japanese descent, was in his early twenties when the United States entered WWII. Fred, his family, and all other Americans of Japanese descent were forced into prison camps because the government believed they might be enemies. Fred was an American, and he didn't believe this was right, so he refused to go. He was arrested for his actions, but he didn't give up fighting against this unfair treatment. Fred's story is both inspiring and informative, as this is still a period in U. S. history that is not often taught or spoken about. It is a strong start to the Fighting for Justice series by Heyday books.
Inspired by the award-winning book for adults Wherever There's a Fight, the Fighting for Justice series introduces young readers to real-life heroes and heroines of social progress. The story of Fred Korematsu's fight against discrimination explores the life of one courageous person who made the United States a fairer place for all Americans, and it encourages all of us to speak up for justice.