**************************************************************************************************
Fiction Picturebook:
(1) Butterflies Belong Here by Deborah Hopkinson, author, and Meilo So, illustrator (Chronicle Books)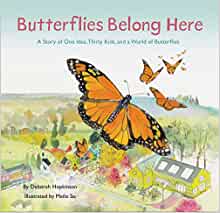 In this moving story, a girl from an immigrant family demonstrates how she made a difference in her community by advocating for beautiful monarch butterflies. Chronicle books suggests the following titles also related to conservation or advocacy: Thank You, Earth: A Love Letter to Our Planet by April Pulley Sayre, The Honeybee by Kirsten Hall, and Greta and the Giants: Inspired by Greta Thunberg's Stand to Save the World by Zoë Tucker.
(2) Lulu and the Hunger Monster by Erik Talkin, author, and Sheryl Murray, illustrator (Free Spirit Publishing)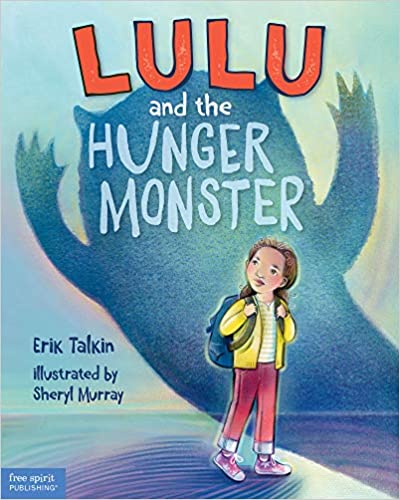 This sensitively told story of a child suffering consequences of poverty and hunger, told by a foodbank CEO who has been fighting food insecurity in Southern California for decades, provides opportunities to discuss subjects such as empathy, friendship, and empowerment.Also the end pages provide tips for accessing local resources.
**************************************************************************************************
Go with the Flow by Lily Williams and Karen Schneemann, authors, and Lily Williams, illustrator (Macmillan Publishers)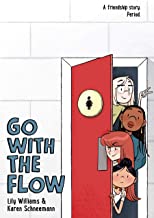 In this graphic novel high school students band together to confront and advocate for availability of tampons or pads at their school. While their friendship is tested in the process, this book helps stimulate conversations about the often secret-laden subject of female menstruation which can enlighten youngsters and adults alike about women's health, justice, and empowerment. Reviewers suggest it is also helpful for boys to gain sensitivity to such subjects.
**************************************************************************************************
(1) 111 Trees: How One Village Celebrates the Birth of Every Girl by Rina Singh, author, and Marianne Ferrer, illustrator (Kids Can Press)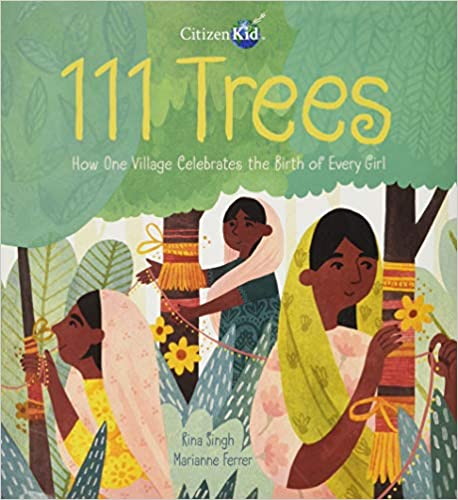 111 Trees is a true story which describes how one individual in a village in India enacts a plan to celebrate the birth of girl babies, instead of only boy babies, and in so doing creates positive change in his village. The end pages provide information such as why they plant 111 trees as well as other information germane to the story. This book is also read on Pascale's Storytime on YouTube.
(2) Sometimes People March by Tessa Allen, author and illustrator (HarperCollins Publishers)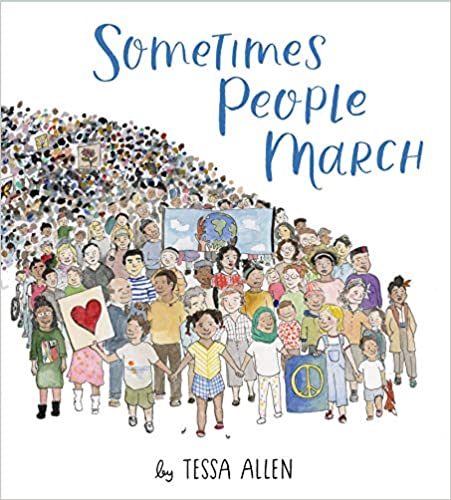 An easily assessible book describing why people sometimes march for causes which are important to them. The end pages chronicle some prominent marches in American history. This book is also read aloud on YouTube.
**************************************************************************************************
No Voice Too Small: Fourteen Young Americans Making History by Lindsay H. Mecalf, Keila V. Dawson, and Jeanette Bradley, editors, and Jenette Bradley, illustrator (Penguin Random House)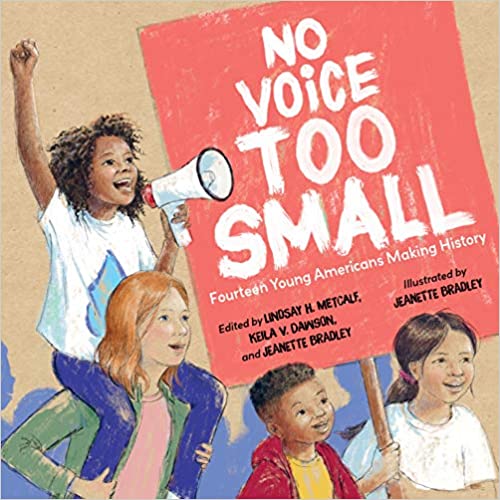 As a tribute to fourteen amazing children and teenagers who raised their voices to create social change in their communities, this book includes poems about their causes and brief biographical information about their lives. The poems, written by many different poets, include many different styles which are explained in the end pages such as free verse, cinquain, reverso, and tanka. The causes represented highlight topics such as bullying, family composition, climate change, gender identity, immigration law, clean water, gun violence, and LGBTQ equality.
A recommended companion book is We Rise, We Resist, We Raise Our Voices edited by Wade Hudson and Cheryl Willis Hudson (Penguin Rando House, 2018) which provides advice from fifty well-known authors responding to the question "What shall we tell our children living in a world characterized by prejudice and racism?
This year's winners were selected by the following committee members:
Lena Marie Rockwood, Ed.D. (Chair), Assistant Principal, Revere High School, Revere Public Schools, Revre, MA.
Char Moffit, Ph.D. (Co-Chair), Assistant Professor, School of Education, Chico State University, CA.
Lynne Bercaw, Director, School of Education, San Diego State University, CA.
Jenn Burchill, Third Grade Elementary Teacher, Park River Area Elementary
Christine Pesta, Reading Specialist, Chester County Intermediate Unit
Aimee Rogers, Ph.D., Library Media Specialist
Cyra Sadowl, Director of Education
Autumn Smith, Reading Specialist Grades 6-8