Employee of the Month
---
The Staff Employee of the Month Program provides the opportunity for employees to be recognized for outstanding service and contribution to the campus community in alignment with the campus values and strategic priorities.
Each month, eligible Best of the Beach submissions are compiled, from which the Employee of the Month is determined. Each Employee of the Month will have Friendship Walk renamed in their honor during a special acknowledgement ceremony with President Jane Close Conoley. The Employee of the Month also receives various small tokens of appreciation from the University, is recognized on the 7th Street marquee, and at the annual Staff Service Awards Reception.
Eligibility
State-side staff employees only, taken each month from the pool of Best of the Beach submissions.
MPP submissions will be removed from consideration for Employee of the Month. Student assistants and faculty are not eligible.
For more information, contact SHR-Recognition@csulb.edu or 5-1052.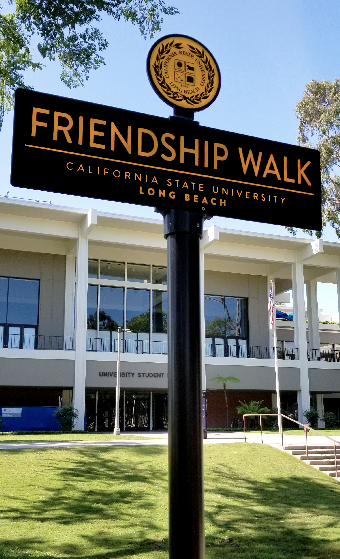 Employees of the Month are honored with a personalized sign on Friendship Walk