Employee of the Month - May 2023
---
Marcus Carline, Lead Stage Technician
College of the Arts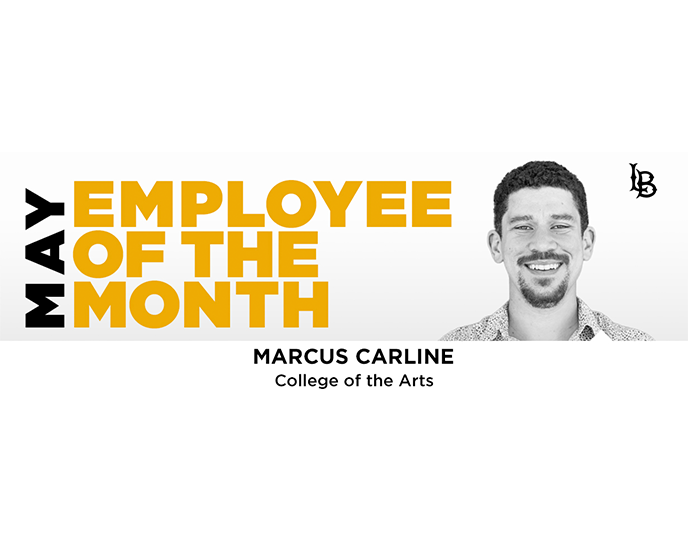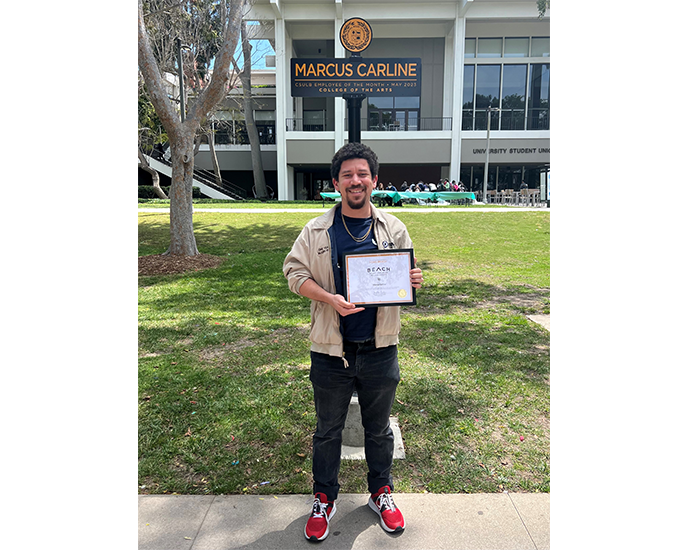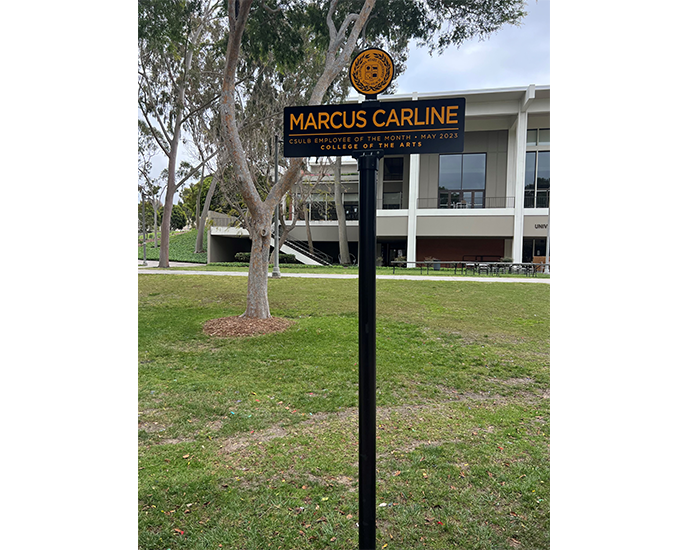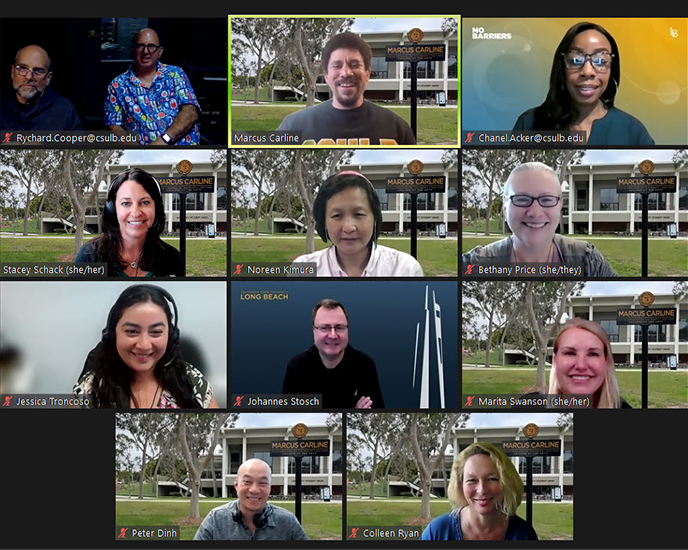 Top row, left to right: Rychard Cooper, Marcus Carline and Channel Acker Second row from top, left to right: Stacey Schack, Noreen Kimura and Pethany Price. Third row from top, left to right: Jessica Tronosco, Johannes Stosch and Marita Swanson. Last row, left to right: Peter Dinh and Colleen Ryan.
Previous
Next
Awarded Thursday, May 11, 2023, via Zoom Virtual celebration. Marcus was joined by President Jane Close Conoley, COTA Administrative Services Manager Chanel Acker, Music Department Chair Jermie Arnold, and numerous COTA and campus colleagues.
Marcus Carline started working in the Bob Cole Conservatory of Music (BCCM) as a Student Assistant in 2013 while also studying to achieve his bachelor's degrees in Composition and Jazz Studies. After he graduated in 2015, he continued on as part-time staff member. In 2021, he began his full-time position as the Lead Stage Technician, where he oversees the operations of the Gerald R. Daniel Recital Hall and trains student technicians in the various elements of running an event. He shared, "Though I've only been in my current position for a little under two years, I've been working the recital hall for a decade now. I don't think I'd make much of a classroom teacher, but I do love working with students and teaching them bits and pieces."
Many of Marcus's colleagues have celebrated the positive impact he has had on the BCCM since he began his full-time position. Jermie Arnold, Music Department Chair, BCCM Director and Director of Bands, expressed, "Marcus has been a wonderful employee. Marcus is very attentive to the needs of the conservatory, but is also always willing to help in other areas at the BCCM should we need his assistance.
"Marcus always [comes] to work with a smile and a great attitude which is infectious! His optimistic outlook and willingness to make it work go a long way to maintaining the positive momentum we need in the BCCM. Marcus interacts with many students and patrons and all who work with him come away having had a positive experience. Marcus truly is one of the Best of the Beach!"
Nathan Pinto, a Stage Technician, expressed his gratitude for Marcus, saying, "Marcus has been the backbone to all the events happening at the Gerald R. Daniel Recital Hall. He is an outstanding example of humble, patient leadership. He serves as a great role model to all those around him.
"Marcus is consistently inclusive and makes the crew feel like a team. He enables growth opportunities for those seeking them and provides gracious support to those having difficulties. Marcus always strives for improvement whether it be technical, interpersonal, or for task efficiency. He has a naturally welcoming personality and respects every crew member equally. His outstanding efforts greatly impact the culture of events at the Gerald R. Daniel Recital Hall."
In September 2021, Music faculty member, Alicia Doyle, noted, "I am nominating Marcus for his extraordinary efforts to ensure that our first concert in the conservatory since March 8, 2020 happened. He was able to troubleshoot tech problems we didn't even think to consider and provide sound for a complex concert which included instrumentalists and singers (many with microphones).
"All of this was further complicated by the fact that with less than a week's lead time, due to amplified COVID mitigation protocols, the concert was moved from the Daniel Recital Hall to a makeshift outdoor venue. Marcus managed to move his equipment, adjust to the new needs and make the changes with professionalism and excellence. He even was able to set up a livestream for patrons who did not feel comfortable coming to campus due to the pandemic! The concert could not have happened without him.
"I should mention that all of this would have challenged the most seasoned of professionals, and Marcus has been here for just shy of a month. We are very lucky to have him the conservatory. His student-centered determination allowed our students to succeed in making art."
Jonathan Talbert, the Director of Choral Activities, also applauded Marcus's contributions to the event, saying, "Marcus was instrumental in setting up the performance space, organizing microphones (so that no student would have to share with another and all could feel safe), running the sound board, and problem shooting all sorts of issues. He did this without being asked, he did it SUPER EFFECTIVELY, and he made our first outdoor Beach Cafe an event to remember. I couldn't be more pleased with his hiring or with his work at BCCM. THANKS, MARCUS!"
Outside of work, Marcus is an active musician, performing with several southern California choirs, an a cappella group, and a world-renowned barbershop quartet. He also enjoys serving as the Dungeon Master in Dungeons and Dragons for his friends.